The VET Tech Program was established to meet the high demand for Information Technology jobs in the United States and to help veterans find jobs. This gives veterans an opportunity for the state to pay for their tech training and provide housing stipend during training. Organizations like Intellectual Point, the only approved program VET Tech Program in Virginia, train students and help secure IT jobs for veterans. 
Here are the steps to qualify for the VET Tech Program. 
Apply – Veteran Applies with VA to participate in the Pilot Program.
Select – Eligible Veteran selects an approved program such as Intellectual Point's IT Training program
Enroll – Upon acceptance, Veteran enrolls in their selected program depending on their interests and background. 
Attend – The veteran receives a living stipend while participating in coursework.
Become Certified – Veteran will receive a certification of their new skills.
Market Yourself – Veteran will work with Intellectual Point to market their skills in their field of study. 
Get hired – Veteran receives a job offer in the IT field.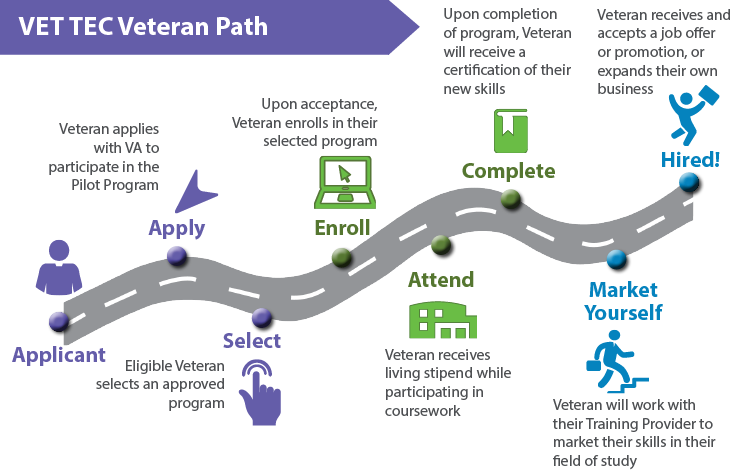 The Northern Virginia, District of Columbia, and Maryland is a hub for veterans who courageously served their country. Attending classes and passing certifications opens up jobs in the growing field of Cybersecurity, Cloud computing, Networking, Artificial Intelligence, Machine Learning. A number of companies in the Northern Virginia region are hiring including Amazon for their cloud computing services and a slew of cybersecurity companies. It is estimated that there are over 37,000 IT jobs available in Northern Virginia and DC Metro area. This number is expected to grow with the importance of cybersecurity worldwide. 
Students can enroll in a number of IT trainings and certifications in VA. Please look at the getting started section of the website to learn more about career paths and certifications to complete.
For additional information including frequently asked questions about the program visit the Top VET Tech Program in Virginia.